One thousand and one night
A downloadable game for Windows and macOS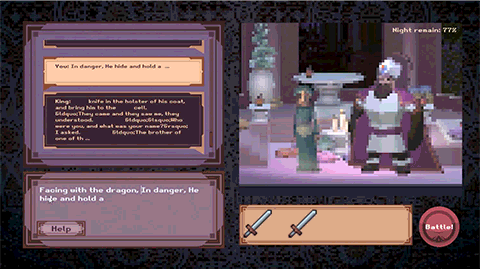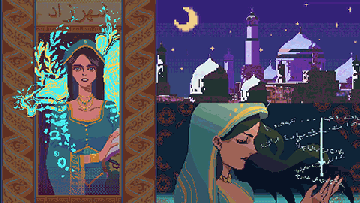 Support English and Chinese
The game is a rebellious version of the Arabian folklore collection, One Thousand and One Nights, enabled by machine learning. A player can write stories with the AI, then use the words in the story to get armed.

In the game, a player will act as the girl Scheherazade. Each night, the player has to tell tales to the Sasanian King to postpone the execution, and the king will continue your story in turns. Scheherazade has a special ability to turn words into reality: When the king's continuation contains words like "sword", "knife" or "shield", those objects will materialize and drop on your hand. This allows your character to fight the king. If you defeat him you will save yourself and the other characters from execution.
Instruction
To Play: Just type your story and wait for the King's continuation!
To fight with him, lead him to mention weapons you need, like "sword" "knife" or "shield". The most convenient way is to write something like "To fight with the demon, the soldier pull out...".
Creator & Main developer & Game art: Yuqian Sun
Creative designer: Haozhen Feng
Assistant developer: Zengqing Yuan, Hankun Yu
AI model: dreamily.ai
Music: Aoi Sho
Special Thanks: Zhaodong Wang, Yong Xiang, Shunyi Liu
Comments
Log in with itch.io to leave a comment.
Unfortunately the game doesn't work, it's on a endless loading cycle.